Sexual and asexual reproductive aspects of Leontochir ovallei, a rare and endangered geophyte of the Atacama Desert
Revista Chilena de Historia Natural
2018
91:5
Received: 29 June 2017
Accepted: 19 April 2018
Published: 24 April 2018
Abstract
Background
"Garra de Leon" (Leontochir ovallei) is an ephemeral endangered Alstroemeriaceae species endemic to Chile. Despite many efforts to improve the conservation of this species, the stimulation of dormant seeds and the production of rhizomes under controlled conditions remain unexplored. The aims of this study were to examine the germination responses of L. ovallei seeds under different in vitro conditions and to evaluate the formation of viable rhizomes after transplantation from in vitro to ex vitro conditions.
Methods
We evaluated five in vitro seed germination treatments: (1) acid scarification, (2) acid scarification followed by imbibition of seeds in aerated water, (3) imbibition of seeds in gibberellic acid, (4) clipping of seeds with a scalpel, and (5) seeds without any treatment (control). Seedlings obtained under in vitro conditions were transplanted to ex vitro conditions following a gradual acclimation process. After eight months, the number of rhizomes per plant was counted. To test asexual multiplication, each rhizome with its respective storage organ was divided using a scalpel and then left to rest for two years before subsequent evaluation of viability. After that period, the rhizomes were re-hydrated, and the emergence of plants after three months was evaluated.
Results
Seeds exposed to treatment 2 showed the highest germination percentage (36%), followed by the seeds whose coats were clipped (14%) and seeds treated with sulphuric acid (8%). The seed germination of the control treatment was 3%. After transplantation to ex vitro conditions, we obtained 220 rhizomes, with an average of three to six rhizomes per plant. After two years of dormancy, a total of 34 rhizomes (of 220 rhizomes) reactivated growth after re-ydration, indicating that, at least, 15,5% responded positively to watering.
Conclusions
We found that the seed germination of L. ovallei was increased by strong acidic conditions, suggesting that the main type of seed dormancy in this species is physical. However, germination was further increased by aeration, indicating embryo dormancy. In addition, we were able to obtain viable rhizomes by transplanting seedlings from in vitro to ex vitro conditions, which may be helpful for the propagation and ex situ conservation of this rare geophyte of Chile and potentially other geophyte species adapted to wet-dry cycle environments.
Keywords
Blooming desert
Alstroemeriaceae
In vitro seed germination
Rhizome production
Ex-situ conservation
Background
Geophytes are a dominant component of arid plant communities. Their survival in these water-limited environments depends on two important aspects. First, geophytes bury underground storage organs with perennial buds such as bulbs, rhizomes, roots tubers and corms. Under favourable environmental conditions, these buds re-sprout, and photosynthesis activates the replenishment of storage reserves to enable new life cycles [1, 2]. This aspect ensures that plant communities will not only persist but also continuously colonize the environment. Second, geophytes (like many other plants) must maintain reproduction based on seeds to ensure genetic variability and gene flow between and among populations [3]. This strategy is pivotal for plants to expand their area of distribution and, more importantly, to transmit to the next generation information on how to survive in harsh environments. Therefore, further knowledge on the seed biology of geophytes will improve the likelihood of devising conservation or commercial strategies for this important arid plant community. However, studies of the propagation of non-domesticated geophytes remain scarce.
In Chile, geophytes are represented by more than 40 genera, of which 19 are endemic [4]. Alstroemeriaceae species are among the most valuable geophytes for ornamental purposes; however, species of this family exhibit low, slow and erratic seed germination [5]. This characteristic hampers efforts for their domestication and ex situ conservation. However, through seed propagation a substantial number of seedlings can be produced, accelerating the propagation of species. Here, we present the study case of Leontochir ovallei as a study model to investigate the aforementioned gaps.
The ephemeral Garra de León (Leontochir ovallei Phil) is the most iconic flower of the Atacama blooming desert [6]. Leontochir ovallei is a rare monogeneric monocotyledon of the Alstroemeriaceae family that is endemic to a very narrow area of the Atacama Desert in Chile. To complete the flower's developmental process, at least three cycles of El Niño events (15 to 21 years) might be required mainly because these plants require two or more seasons to become established, develop and produce mature viable seeds [7]. In addition to its limited distribution and the environmental stochasticity in water availability, this plant species is subjected to other threats. Its inflorescences are eaten by hares and massively collected by local people for commercial or landscape gardening purposes [7, 8]. As a consequence, and following the Red List criteria of the International Union for Conservation of Nature [9], L. ovallei is currently classified as an endangered species in Chile [10–14]. Accordingly, the establishment of propagation programmes to assist conservation strategies for this plant has become a concern for governmental agencies and conservationists [15, 16].
The potential role of seed germination in maintaining L. ovallei populations remains largely unexplored. Only one previous study investigated the germination of L. ovallei seeds, but did not report seed germination requirements [17]. Asexual propagation of Alstroemeriaceae species by dividing their rhizomes is the method most frequently used [18]. However, this strategy is not easy to achieve in the case of L. ovallei, because the rhizomes are deeply buried or settled under heavy rocks, making it almost impossible to obtain undisturbed rhizomes [5]. Cultivation of the elusive rhizomes of this species has not been reported.
In vitro methods have been successful for Alstroemeriaceae species [19–21], including micropropagation [22, 23]. To achieve successful propagation using in vitro methods for any plant species, the growth media, pH, incubation temperature, light conditions, and type and concentration of hormones must be optimized [24, 25]. The stratification/scarification methods used to stimulate seed germination [26] are also pivotal factors that require optimization. In the case of L. ovallei, little is known regarding the optimal conditions for the plant's in vitro propagation.
The aim of this study is to evaluate in vitro and ex vitro methods of propagation of L. ovallei. Specifically, the aims were to (a) determine the in vitro germination responses to five pre-sowing treatments; (b) evaluate the success of transplanting seedlings from in vitro to ex vitro conditions; and c) evaluate rhizome formation and viability of L. ovallei under ex vitro conditions.
Results
Seed germination
Treatment #2
(sulphuric acid and aerated water for 48 h) showed the highest germination percentage (36%) (Table
1
) and it was the only treatment that showed seeds germination after 10 days (Fig.
1
).
Treatment #4
(soaked in water for 48 h and then coat-clipped) and treatment
#1
(sulphuric acid only) showed intermediate germination percentages (14% and 8%, respectively). In both cases, germination started one week later (day 15) than in
treatment #2
.
Treatment #
3 (gibberellic acid (GA) and aerated water for 48 h) showed 4% germination, and germination also began on day 15, whereas
treatment #5
(
control treatment
) presented the lowest percentage of seed germination, only 3%, and its germination started only after 30 days. For all of these treatments (including the control treatment), germination was halted approximately two months post-incubation (Fig.
1
).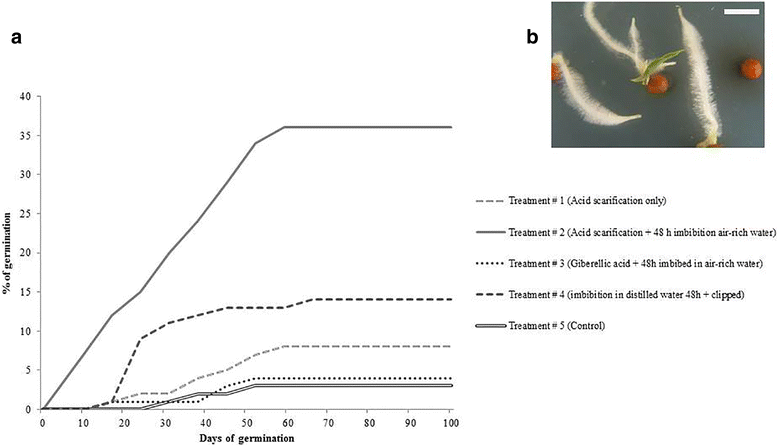 The cure model (95% C.I.) indicated that three of the five pre-sowing treatments had a significant effect (p < 0.001) on the percentage of germination and days until germination compared with the control treatment (Table 1). Thus, the seeds subjected to treatment #2 presented an O.R. of germination of 18.2 (12.0; 27.2) compared with those subjected to the control treatment. The O.R. for germination observed for the seeds treated with treatment #4 was 5.3 (2.9; 9.0) higher, whereas O.R. of 2.8 (1.3; 5.48) and 1.3 (0.4; 3.2) were observed for the seeds subjected to treatment #1 and treatment #3 (not statistically significant), respectively (Table 1).
Survival after transplanting from in vitro to ex vitro conditions and subsequent rhizome formation
The first stage of the gradual acclimation (three months inside a growth chamber) revealed that 45 of the 65 seedlings survived transplantation from in vitro to ex vitro conditions (
p
 = 0.05). This represents 69.2%. Following the second stage of acclimation (eight months in a greenhouse), only 36 of the 45 seedlings survived (
p
 < 0.001), representing 80% success. Overall, if we compare the number of seedlings initially transferred from in vitro to ex vitro conditions (65 seedlings) and the number of plants that survived at the end of this greenhouse stage (36 seedlings), we obtained seedling survival of 55.4%. The 9 seedlings that did not survive this stage of acclimation died early (at the third week). In terms of rhizome formation, the surviving seedlings formed a total of 220 rhizomes, with 1 to 16 rhizomes per seedling (Fig.
2
). In addition, 67% of the seedlings (24 out of 36) presented between 3 and 6 rhizomes (Fig.
2
and Additional file
3
B). Assuming that each rhizome represents a potential new plant, and that only one rhizome was formed when the plants were transferred to the greenhouse at the beginning of the second stage, our results indicate an increase in rhizomes equivalent to 488% in eight months. After two years of resting, rehydration reactivated the growth of 34 of 220 rhizomes (15.5%; Additional file
3
D).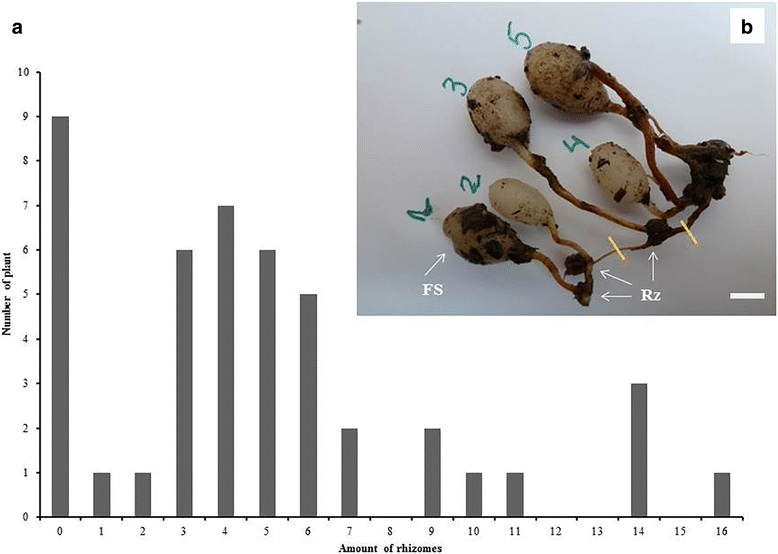 Discussion
Pre-sowing treatment effects
This study shows that the germination of Leontochir ovallei is significantly increased by different pre-sowing treatments. Previous studies of Chilean geophytes growing from semiarid to Mediterranean areas and from the Pacific coast to the Andes mountain limits of their distribution have reported that seed germination in several species of Alstroemeriaceae (e.g., Alstroemeria pseudospathulata and Bomarea salsilla) is stimulated by treatments similar to those used in this study (i.e., cold stratification, acid scarification, water imbibition, use of gibberellic acid and clipping of seed testa), indicating the effectiveness of these treatments for breaking physical and chemical dormancy [36–42], in contrast to the results for L. ovallei. According to our results, non-clipped seeds treated with sulphuric acid (treatment #1) exhibited partially improved seed germination. Seed germination increased only when these acid- treated seeds were soaked in aerated water (treatment #2), showing that this combination was the most effective treatment for L. ovallei seeds. This result might be attributed to the positive effect of sulphuric acid by destroying the wax layers and suberin of the seed coats, which favours water absorption and gas exchange (mainly oxygen) in the seed [43, 44]. The subsequent provision of atmospheric air-enriched water likely improved this gas exchange, which in turn might have increased the oxygen availability for the embryo [45]. Most seeds of vascular plants are restricted by water availability in the soil and by the amount of oxygen dissolved in the water that can enter the seed [1, 46]. The increase in germination due to exogenous aeration might indicate that L. ovallei seeds exhibit embryo dormancy as well as physical dormancy, which has been proposed to occur in the seeds of some species of the Alstroemeriaceae family [18]. Oxygen activates the oxidation of starch, lipids and proteins and stimulates the mobilization of several proteins that provide energy to sustain germination and embryo emergence and development [47–49]. L. ovallei appears to be a species whose seeds exhibit a high oxygen requirement. This high oxygen requirement could be a survival strategy used by geophytes distributed in arid lands to permit a decrease in the levels of endogenous oxygen in the seeds to a condition of hypoxia to minimize mitochondrial respiration. Germination would then be stimulated once sufficient water and oxygen pass into the seed [50, 51]. The optimization of the level of endogenous oxygen might help L. ovallei maintain a longer dormant state and avoid sprouting until the arrival of rain, which is always scarce and erratic in its arid environment.
Among the other three seed germination treatments, the germination percentage increased for seeds whose coats were soaked in distilled water for 48 h and clipped (treatment # 4) compared to the control (treatment # 5). This suggests that cutting might induce an important modification at the seed coat level (e.g., relaxing the physical tension imposed in the cell wall by the cell wall proteins, cellulose and lignin) [52–54]. By contrast, when seeds of L. ovallei were merely treated with acid (treatment # 1), the physical barrier imposed by the seed coat was only partially reduced and the percentage of germination was similar to the reported for Alstroemeria magnifica (approximately 9%) [55]. The germination of L. ovallei obtained with acid scarification was quite low compared with the germination of other plants adapted to arid lands, which can be close to 98% after acid scarification in the case of woody leguminous plants such as Prosopis juliflora and Acacia nilotica [52, 53, 56]. This finding suggests that factors other than the waterproof coats must be removed to enable full germination of the seeds of this species and perhaps other family members, highlighting the potential role of aeration during water imbibition of these seeds. GA is a hormone that stimulates seed germination [57], although it was not effective in the present study. Because we did not subject the seeds imbibed in GA(treatment # 3) to acid scarification, the hard coat of the seeds likely impaired the proper absorption of GA. GA can act in two ways: by increasing the potential for embryo growth and by inducing hydrolytic enzymes [58, 59]. Both processes might not have occurred in our L. ovallei seeds due to their reduced permeability. A future approach for seed germination in this species should consider pre-treatment with acid before GA.
Seedling survival and rhizome production
Acclimation of seedlings transplanted from in vitro to ex vitro conditions is a critical step in any program of plant propagation by in vitro means, mainly because in vitro leaves have thin cuticles and scarce stoma regulation, which favours a high rate of transpiration and in turn increases the risk that the seedlings will suffer high dehydration [60]. After 15 days of acclimation of Alstroemeria ligtu, 80% of seedlings survived [61], whereas for the hybrid Alstroemeria pelegrina x A. pulchella this percentage was 87% after three months of acclimation [62]. In our case, the seedling survival of L. ovallei was almost 70% after three months of acclimation inside the growth chamber and 55% at the end of the acclimation process (greenhouse), which demonstrates that some Alstroemeriaceae species have a good response to the acclimation process.
We obtained healthy rhizomes of L. ovallei after transfer from in vitro to ex vitro conditions and were able to propagate them using asexual methods. Furthermore, the L. ovallei rhizomes obtained under controlled conditions maintained their viability after two years of dormancy. This study is the first to describe an in vitro/ex vitro methodology that successfully produces L. ovallei rhizomes. Few studies have reported the production of rhizomes in the Alstroemeria genus. For instance, using the rhizome-splitting technique, Chiari and Bridgen [63] achieved an increase in the number of propagules equivalent to 200% over a period of three months in Alstroemeria species. In our case, starting from seeds, we managed to increase the number of rhizomes by approximately 450%. Notably, we did not split the rhizomes in half, in contrast to Chiari and Bridgen. Instead, we split between rhizomes, maintaining the attachment of the entire rhizome it its respective storage organ. Keeping the storage organ attached to the rhizome may be more beneficial for increasing the number of rhizomes than splitting the rhizome in half. Additionally, we used a mix of sand:nutritive soil (3:1) as substrate during rhizome formation, which may also have contributed to the development of new rhizomes in L. ovallei seedlings because the predominant soils in the natural habitat of this species are sandy soils [64] and our soil mix used for rhizome production was rich in this material. Aeration and percolation of water are two processes that might be favoured using sand as a substrate, and the formation of rhizomes by L. ovallei may be demanding with respect to these two conditions. Our next challenge is to evaluate methods for the reintegration of L. ovallei rhizomes in their native habitats and to elucidate the genetic aspects involved in the formation of rhizomes of this plant, considering the high variability observed in the number of rhizomes formed by plants.
Conclusions
In this study we reported for the first time in vitro seed germination of L. ovallei. The combination of acid scarification followed by seed imbibition in atmospheric air-rich water was essential to induce germination, suggesting a complex control of dormancy of the seeds of this species. This study also demonstrates that transferring L. ovallei seedlings from in vitro to ex vitro conditions is possible following a gradual acclimation process first in a growth chamber and then in a greenhouse. In addition, this is the first report of a seed germination protocol capable of forming L. ovallei rhizomes, which also remained viable even after two years. In summary, our study provides an in vitro and ex vitro method that could contribute to the conservation and preservation of this iconic species of Chile. Potentially, this method might be useful for other endangered geophytes of arid lands.
Declarations
Acknowledgements
We thank Mr. Mario Meléndez, Isla Troncoso and other national authorities of CONAF for providing the necessary facilities to collect seeds of. L. ovallei in the Llanos de Challe National Park. We are also very grateful to the Llanos de Challe National Park Rangers and Paloma Gachón for their valuable help during the seed collection procedures. We thank Dr. Julio Gutiérrez for his insightful comments and suggestions. We thank the Centre for Advanced Studies in Arid Zones (CEAZA) for providing their flow chamber and autoclave during the first stages of this study. We also thank Dirección de Investigación y Desarrollo Office of Universidad de La Serena for its economic support in the same stages of this research. We are grateful to Dr. Karina Stucken for her help in revising English grammar usage in this paper.
Funding
This work was funded by Fondo de Investigación en Bosque Nativo, grant n° 037/2011.
Availability of data and materials
The dataset generated and/or analysed during the current study is maintained in the personal repository of the corresponding author. Request for information should be sent by email to cibanez@userena.cl.
Authors' contributions
FJ, JB and CI collected the seeds. MV and EJ developed the in vitro protocol and rhizome production. CN performed the statistical analysis. CI-B provided feedback during manuscript writing, and CI conceived and coordinated all of the study, including legal aspects related to the collection of seeds, acted as the research supervisor and wrote the manuscript. All authors approved the final manuscript.
Ethics approval and consent to participate
Not applicable.
Competing interests
The authors declare that they have no competing interests.
Publisher's Note
Springer Nature remains neutral with regard to jurisdictional claims in published maps and institutional affiliations.
Open AccessThis article is distributed under the terms of the Creative Commons Attribution 4.0 International License (http://creativecommons.org/licenses/by/4.0/), which permits unrestricted use, distribution, and reproduction in any medium, provided you give appropriate credit to the original author(s) and the source, provide a link to the Creative Commons license, and indicate if changes were made. The Creative Commons Public Domain Dedication waiver (http://creativecommons.org/publicdomain/zero/1.0/) applies to the data made available in this article, unless otherwise stated.
Authors' Affiliations
(1)
Departamento de Biología, Facultad de Ciencias, Universidad de La Serena, La Serena, Chile
(2)
Departamento de Matemáticas, Facultad de Ciencias, Universidad de La Serena, La Serena, Chile
(3)
Instituto Tecnológico de Tepic, Avenida Tecnológico 2595, Lagos del Country, Tepic-Nayarit, Mexico
(4)
Departamento de Química, Facultad de Ciencias, Universidad de La Serena, La Serena, Chile
(5)
Núcleo de Investigación en Producción Alimentaria, Facultad de Recursos Naturales, Escuela de Agronomía, Universidad Católica de Temuco, Temuco, Chile