Prosopis tamarugo Phil.: a native tree from the Atacama Desert groundwater table depth thresholds for conservation
Revista Chilena de Historia Natural
2015
88:18
Received: 5 September 2015
Accepted: 11 November 2015
Published: 2 December 2015
Abstract
Prosopis tamarugo Phil. is a legume tree native to the Atacama Desert, Chile. Tamarugo has physiological characteristics that are highly adapted to extreme life conditions in the Pampa del Tamarugal. Null precipitation makes tamarugo completely dependent on groundwater, developing in areas where the groundwater depth is closest to the surface. Groundwater extraction for domestic consumption, mining, and agriculture affects the desert ecosystem by lowering the water table. Measuring and describing the impacts on vegetation through the monitoring of physiological variables along with groundwater depletion in salt flats where extraction wells are located has contributed to a better understanding of tamarugo response to this stress factor. Integrated variables such as green canopy fraction, normalized difference vegetation index (NDVI), 18O isotope enrichment in foliar tissue, and twig growth proved to be far more reactive toward groundwater depth increase and presented lower error values. These variables respond to mechanisms that tamarugo has to maintain a stable water condition when water offer (water table depth (WTD)) decreases regarding water demand (transpiration). Defoliation along with twig growth diminishment would combine toward a canopy reduction strategy in order to reduce water demand. Green biomass loss, beyond a certain WTD, would lead to complete drying of the tamarugo. Up to 10 m of groundwater table depth, Tamarugo grows, has photosynthetic activity, and has the ability to perform pulvinary movements. Beyond 20 m of water table depth, tamarugo survival is compromised and hydraulic failure is inferred to occur. The current scenario is of groundwater over-exploitation; if economic efforts will be made to conserve and/or restore tamarugo, habitat groundwater extraction is a key element in effective management. Reaching of the thresholds depends on the adequate authority management of groundwater. The objectives of this review are (a) to review information collected from scientific studies regarding tamarugo condition and its response, over time, to WTD increase, (b) to identify WTD thresholds that affect tamarugo's functioning, and (c) to propose a sequence of physiological events triggered by groundwater (GW) depletion.
Keywords
Native tree
Adaptation
Ground water exploitation
Ground water depth
Physiological mechanisms
Thresholds for conservation
Introduction
Prosopis tamarugo
Phil. (
P. tamarugo
) is a native and endemic legume tree species that grows in the Pampa del Tamarugal located in the Atacama Desert, Chile (19° 33' S to 21° 50' S) (Habit
1985
) (Fig.
1
). This area has tropical hyper-desertic bio-climate (Pliscoff and Leubert
2006
) with almost complete absence of rainfall, low relative humidity, and wide daily temperature variation (Campillo and Hojas
1975
). It is an endorheic basin composed of an underground lake with a water table that fluctuates between 4 and 20 m (Habit
1985
). The high evaporation from soil surface generates the presence of salt deposits in an active or partially active state (IREN Instituto de Investigación de Recursos Naturales, Chile
1976
). Thus, La Pampa aquifer is associated with salt flats ecosystems (Santibañez et al.
1982
).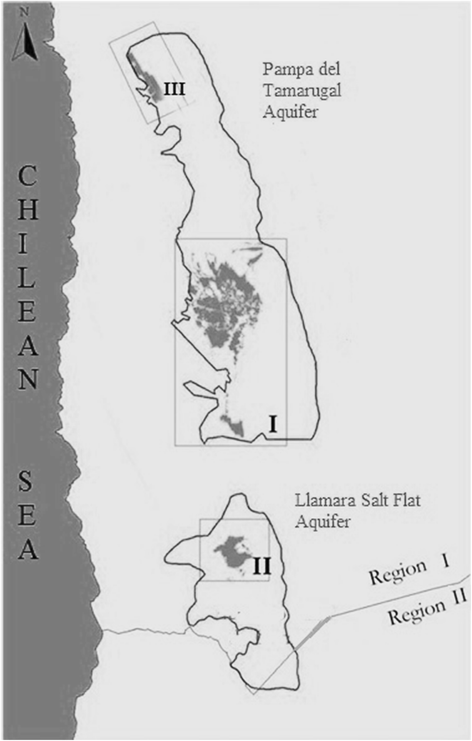 P. tamarugo is a strict phreatophyte (Aravena and Acevedo 1985) highly adapted to the conditions of high temperature and radiation of the Pampa del Tamarugal (Lhener et al. 2001), and described as water stress-resistant species (Acevedo et al. 1985). However, at present, this species is at risk due to groundwater (GW) extraction for human and mining consumption (Rojas and Desargues 2007), which has induced a decline in the water table of all the aquifer, so now, it is considered as an officially protected species ("almost under threat" (UICN), "vulnerable" (Ministry of Environment 2012)). The water flux into the aquifer is estimated to be from 880 to 1000 l/s while the water outflow is estimated to be as much as 4000 l/s (Chávez 2014), including 1100 l/s used by evaporation and evapotranspiration, about 2000 l/s of water extraction for human consumption, particularly the city of Iquique, and about 900 l/s for mining and others.
There are impacts of GW extraction on natural vegetation (Elmore et al. 2006), particularly if overexploited. These impacts can be observed in various scales; individual plants may show biomass reduction facing water stress which in a greater scale can be observed through lower normalized difference vegetation index (NDVI) values, and in more severe drought scenarios, when tolerance thresholds have been overcome, specific plant populations may decrease, changing community composition and ecosystem dynamics permanently. It is important to monitor these impacts since desert vegetation provides ecosystem services such as the regulation of the hydrological cycle, conservation and nursery of endemic and rare species, and the provision of an oasis for local settlements, grazing, and small-scale agriculture (Ezcurra 2006).
Tamarugos are subject to multiple stress factors, which may be biotic or abiotic in nature and that affect plant productivity. Abiotic stresses can affect growth through various physiological processes (Thomas and Packham 2007; Pallardy 2008). If a stress factor exceeds the threshold of physiological performance, the survival of the plant depends on the activation of physiological and biochemical mechanisms of avoidance or tolerance, on the flexibility of these mechanisms, on the compensatory abilities, and on the intensity and duration of the stressor (Mandre 2002). Therefore, an understanding of the mechanisms triggered under stressful conditions is needed to preserve this fragile forest ecosystem. The objectives of this review are (i) to review information collected from scientific studies regarding tamarugo condition and its response, over time, to water table depth (WTD) increase, (ii) to identify WTD thresholds that affect P. tamarugo in their condition, and (iii) to propose a sequence of physiological events triggered by GW depletion.
Conclusions
Thresholds for conservation
Can we identify the thresholds of WTD related to the triggering of each step of the TWSRS? Thresholds presented by Squella, Ortiz, and Chavez may be related to different physiological processes in the TWSRS.
Ortiz's use of the NDVI to monitor foliage loss in response to GW depletion proposes a threshold at which NDVI values tend to zero and tamarugo activity is almost null (10 m). Squella's threshold holds relation with its analog process in the sequence, twig growth diminishment, and describes GW table depth at which growth rates tend to zero (11.7 m). Chavez proposes a threshold of 20 m, facing which, trees are exposed to drying out and have the reflectance properties of a dead tree most adequately describing the last stage of the sequence, prior to death (20 m) (Fig. 2).
In regard to the information recollected and aiming a better understanding of the survival and mortality mechanism of P. tamarugo Phil., integrated variables proved to be more assertive and sensitive toward WTD. Environmental monitoring of the tamarugo forest could aim efforts toward perfecting and implementing methodologies that include measurements of the variables presented that are related to physiological responses located at each WTD threshold.
Efforts have been made and documented toward a better understanding about why and how tamarugos die due to water depletion. Although current researches may not be entirely conclusive, they shed light toward understanding that WTD is directly related to tamarugo water relations and, ultimately, to its conservation. The current scenario is a groundwater over-exploitation; therefore, if economic efforts are addressed to conserve and/or restore P. tamarugo, habitat groundwater extraction is a key element for an effective management. Reaching of the thresholds presented above depends on adequate authority management of groundwater extraction rate; this is an especially sensitive subject regarding the Chilean Water Code and may require political efforts.
Abbreviations
DGA:

Dirección General de Aguas
GCF:

green canopy fraction
GW:

groundwater
MMA:

Ministerio del Medio Ambiente
NDVI:

normalized difference vegetation index
TWSRS:

tamarugo water stress response sequence
VPD:

vapor pressure demand
WTD:

water table depth
Declarations
Acknowledgements
Financial support for this review was provided by the FONDECYT Project No. 1150799.
Open AccessThis article is distributed under the terms of the Creative Commons Attribution 4.0 International License (http://creativecommons.org/licenses/by/4.0/), which permits unrestricted use, distribution, and reproduction in any medium, provided you give appropriate credit to the original author(s) and the source, provide a link to the Creative Commons license, and indicate if changes were made.
Authors' Affiliations
(1)
Laboratorio Relación Suelo-Agua-Planta, Facultad de Ciencias Agronómicas Universidad de Chile, Santiago, Chile